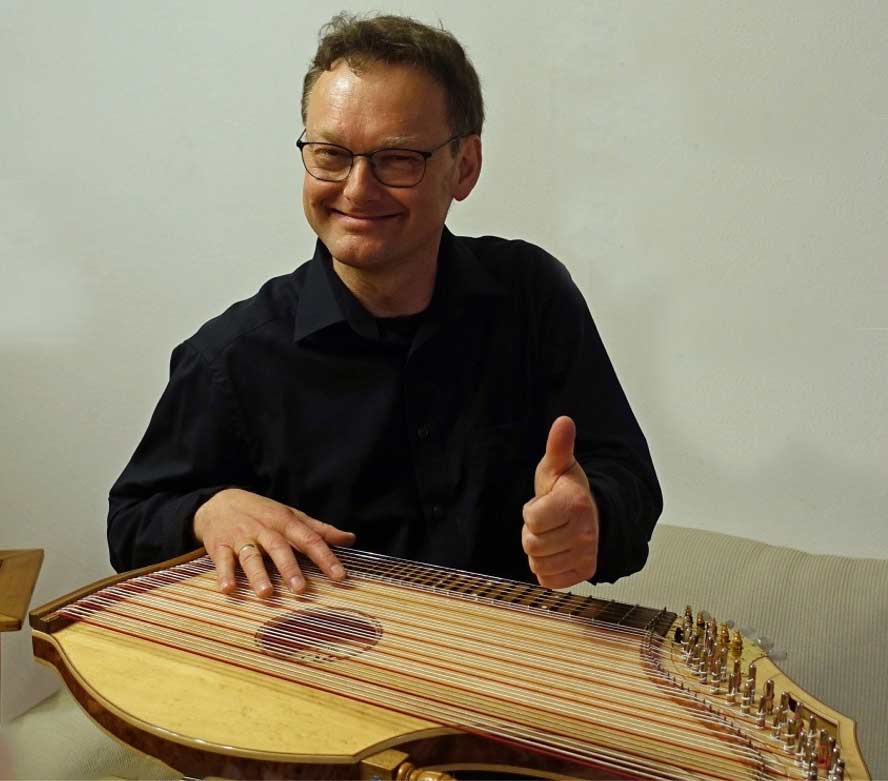 Including single lessons, music sores, videos, duo playing, small concert for You and Your family.
I started to make music in 1980. Experience in teaching the Zither since 1995. Finished Bruckner Conservatory in Linz, Austria in 1996 by learning Harmonika and Guitar too. Offer to teach online since 2020. By now I have produced 7 CDs in my studio played in radio stations too. Two live gigs in TV finished successfully. Create notes for my peoples and teach via Internet. Many gigs finished successfully. Most of them in Austria, Germany, Swiss. Some in Norge, Greek, Netherlands, Japan and other countries. This is I like most. Teaching people in learning how to play Zither online. Therefor contact me ag@zither.at. By the way, I'm always happy to work with other, new artists. Please feel free to contact me if you are interested
Lessons:
I would like to invite you to music lessons. Also online. You can try it out via internet. A personal meeting with a trial session is free of charge. If you have any technical questions, I am of course at your disposal. I am already looking forward to meeting you.
An instruction video on the right side.
In my lessons I place great value on a good teacher-student relationship. Every lesson is personal, i.e. I respond to the personal wishes of the students. It is very important to me to convey joy in music.
General music lessons on request
I use – depending on age (from about 3 years – vocals/piano/hammered dulcimer) and type (e.g. more visual or more acoustic, …) as well as gender of the students – among others school works by G. Andrich, N. Taneda, K. Ehwallner, P. Suitner, C. Meyer, M. Langer, W. Scharf and also my own.
I usually do not limit myself exclusively to the zither, but teach music in general – if desired. (e.g. also aural training, music theory, etc.) There is (almost) no upper age limit.
I use electronic media rather sparingly.
Phrasing, articulation and making music together
I value "musical playing" (e.g.: phrasing, articulation etc.) and "making music together" in groups. I practice group music making (ensemble playing, group playing) as early as possible and in a meaningful way.
Clarinet and saxonette are used as well as double bass, guitar, dulcimer, violin or Styrian harmonica. I advise most students to actively participate in concerts, but it is not compulsory. Many of them come for lessons and also for music therapy. Where possible I support the functioning of the brain.
If You consider about learning Zither or Guitar?
Or would you like to try a new musical idea? 

Please fill the form below. I am looking forward to hearing from You.
This form does not create a binding agreement, it is only for contact purposes. I will contact you and make an appointment.
Yours Andreas Gsöllpointner